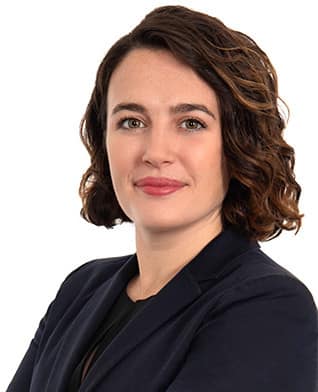 Education
Temple University James E. Beasley School of Law, J.D. 2017, Magna Cum Laude

Rutgers, The State University of NJ, B.A. 2010
Awards
Beasley Scholar

Jacob Kossman Award

Ethan Allen Doty Award

Professor Charles H. Rogovin Scholarship
Publications
Comment, Civil Rebirth: Making the Case for Automatic Ex-Felon Voter Restoration, 89 Temp. L. Rev. 451 (2017)

Judicial Independence Under Attack: A Theory of Necessity, 168 U. PA. L. Rev. Online 1 (2019) (co-author)
Admissions
Martha Guarnieri is an Associate Attorney at Handley Farah & Anderson, where she represents people who have been harmed by corporate misconduct and government abuse. Her practice focuses on advocating for workers who have been denied fair wages, vulnerable populations that have been subject to discrimination, and groups of individuals with limited resources who have been harmed by corporate greed and abuse.
Before joining HFA, Martha was a commercial litigator at a large national law firm. There she maintained a robust pro bono practice, representing a group of low income tenants in disputes with their landlord, a refugee seeking political asylum, a group of concerned citizens asserting their right to participate in critical governmental decisions under the Pennsylvania Sunshine Act, and the City of Philadelphia in taking land through eminent domain for the construction of a public trail. Martha began her legal career as a law clerk to Judge Michael M. Baylson and Magistrate Judge David R. Strawbridge in the Eastern District of Pennsylvania.
Martha has had a long-standing commitment to social justice and worker's rights. While at Temple Law, she interned at Community Legal Services and the EEOC. Martha's law review comment, Civil Rebirth: Making the Case for Automatic Ex-Felon Voter Restoration, 89 Temp. L. Rev. 451 (2017), was awarded the Jacob Kossman Award in Criminal Law for the best paper in the field of constitutional rights and privileges of persons accused of a crime. At her graduation, Martha was awarded the Ethan Allen Doty Award for service to the law school community and the inaugural Professor Charles H. Rogovin Scholarship, awarded to a student who has a passion for learning, a commitment to social justice, and a sense of humor. She was also a member of the Rubin Public Interest Law Honors Society.
Before law school, Martha was a member of the Union Organizing Committee for UNITE HERE Local 54 at Sugarhouse Casino, where she worked as a slot attendant. During college at Rutgers University, Martha was a community organizer and managed two city-wide elections in New Brunswick, NJ as a member and President of Empower Our Neighborhoods.
Martha lives in Philadelphia, PA with her husband and dog.