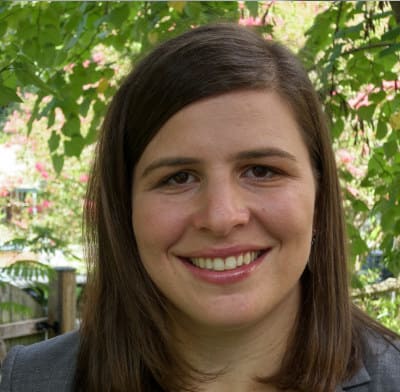 Education
American University Washington College of Law, J.D., magna cum laude, 2015

Brandeis University, B.A., magna cum laude, 2009
Clerkship
Law clerk for Judge Frank Montalvo in the U.S. District Court for the Western District of Texas
Publications
"Damaged Bodies, Damaged Lives: Immigrant Worker Injuries as Dignity Takings," 92 CHICAGO-KENT L. REV. 1155 (2017) (with Jayesh Rathod)

"Justice for Workplace Crimes: An Immigration Law Remedy," 19 HARV. LATINO L. REV 137 (2016)
Admissions
Virginia

District of Columbia

U.S. District Court for the Eastern District of Virginia

U.S. District Court for Western District of Virginia
Rachel Nadas is an Associate Attorney at Handley Farah & Anderson, where she represents people who have been harmed by corporate misconduct and government abuse. Her litigation focuses on advocating for workers who have been denied fair wages and for vulnerable populations that have been subject to discrimination.
She has litigated dozens of class actions around the country on behalf of both unpaid workers and victims of discrimination. Those cases involve allegations of wage theft, exploited foreign labor, antitrust violations, housing discrimination, employment discrimination and disability discrimination.
Prior to joining HFA, Ms. Nadas was a Staff Attorney in the Economic Justice and Immigrant Advocacy programs at the Legal Aid Justice Center in Virginia. While at the Legal Aid Justice Center, Ms. Nadas developed and litigated claims involving violations of the Fair Debt Collection Practices Act and the civil rights of immigrants. Prior to joining Legal Aid Justice Center Ms. Nadas clerked for the Honorable Frank Montalvo in the United States District Court for the Western District of Texas.
Ms. Nadas has had a longstanding commitment to worker and immigrant rights. Prior to law school, she worked at the D.C. Employment Justice Center and the Legal Aid Society of D.C. During law school, she interned for the Southern Poverty Law Center's Immigrant Justice Project and the East Bay Community Law Center.
Ms. Nadas is the author of Damaged Bodies, Damaged Lives: Immigrant Worker Injuries as Dignity Takings, 92 Chicago-Kent L. Rev. 1155 (2017) (with Jayesh Rathod) and Justice for Workplace Crimes: An Immigration Law Remedy, 19 Harv. Latino L. Rev 137 (2016).
Ms. Nadas received her B.A., magna cum laude, from Brandeis University. She attended law school at American University Washington College of Law, where she was a Public Interest/Public Service Scholar and graduated Order of the Coif, magna cum laude. Upon graduation from law school, Ms. Nadas was awarded the Dean's Award for Professional Responsibility for her clinical work and the Washington College of Law Alumni Award for her contributions to student activities and the progress of the law school.
Ms. Nadas lives in Washington, D.C. Outside of work she enjoys long distance running, visiting national parks, and baking. Ms. Nadas speaks Spanish.
Notable Cases:
Burrell et. al. v. Lackawanna County et. al (M.D. Pa): A collective and class action alleging that civilly detained child support debtors who worked at a private recycling center were paid sub-minimum wages in violation of Federal and Pennsylvania law.
Jien et. al. v. Perdue farms et. al. (D.M.D): An antitrust class action alleging that the leading poultry producers conspired to depress compensation paid processing plant workers.
Martin v. Apartment Investment Management Corporation et. al (D.C. Super. Ct.): A class action alleging unlawful source of income discrimination against Section 8 voucher holders.
Opiotennione v. Facebook (N.D. Cal): A class action alleging that Facebook unlawfully discriminated against women and older people in disseminating advertising for financial services products.
Housing Rights Initiative et. al. v. Bozutto et. al. (D.M.D): A class action alleging that several property management companies unlawfully discriminated against older people in their advertisements to prospective tenants on Facebook.
Jabbie et. al. v. Global Tel*Link Corp et. al. (D.M.D): An antitrust and RICO class action alleging that companies providing telephone services to prisoners conspired to increase prices.