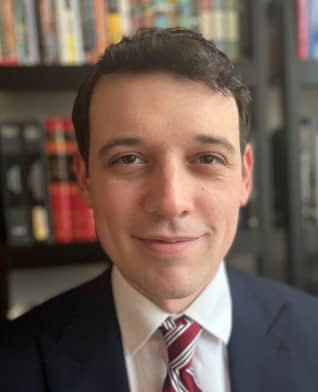 Education
University of Michigan Law School, 2016, Cum laude honors

Cornell University, College of Arts and Sciences, B.A. 2013
Publications
When is an Agency a Court? A Modified Functional Approach to Agency Removal Under 28 U.S.C. § 1441, Michigan Journal of Law Reform (2015).
Admissions
Nicholas Jackson is an Associate Attorney at Handley Farah & Anderson, where he represents workers, consumers and vulnerable populations who have been harmed by corporate misconduct and government abuses.
Mr. Jackson litigates antitrust and consumer protection actions. As an antitrust lawyer, Mr. Jackson is currently working on several major antitrust actions, including Jien et al v. Perdue Farms, Inc. et al., which alleges that poultry processors conspired to depress the compensation of processing plant workers, and Jabbie et. al. v. Global Tel*Link Corp et. al., which alleges that providers of telephone services to prisoners conspired to inflate prices. As a lawyer for consumers, Mr. Jackson works on nationwide class actions alleging that companies made material misrepresentations about their products, breached their warranties, and/or sold defective products.
Before joining HFA, Mr. Jackson was an associate at a prominent New York law firm, where he litigated securities, fraud, and commercial actions. He also represented companies and individuals in investigations before the Department of Justice and the Securities and Exchange Commission. Mr. Jackson maintained a robust pro bono practice serving low-income individuals facing the criminal justice and immigration systems, including in federal criminal defense and asylum actions. Mr. Jackson also worked on impact litigation to secure a right to counsel in immigration cases, to promote voting rights, and to defend city firearm regulations.
Mr. Jackson graduated cum laude from the University of Michigan Law School, where he was Managing Development Editor of the Michigan Journal of Law Reform and a student attorney in the Pediatric Advocacy Clinic. Mr. Jackson obtained his undergraduate degree from Cornell University.
Mr. Jackson is admitted to the bar in New York.